z
Contact Us
There are many volunteers supporting the club and therefore a lot of alternative contacts – please fill in the form below, and your message will be forwarded to the relevant group.
Main contact list
Welfare
Track location
Sportshall location
Main contact list
* = required field
Welfare
The club's Welfare Officer is Steph Maxwell. Steph is our main welfare contact and is always available should you have any queries or anything you wish to report. Our preferred method of contact is via email but if there is a pressing issue, please call Steph on the contact number below. Should Steph not be available, alternative contacts are also shown below.
There are guidelines explaining what to do if you have any concerns.
 Role
 Name
 Phone
 E-mail
 Welfare Officer
 Steph Maxwell

07900 416276

01799 527271

 welfare@cambridgeandcoleridge.org.uk
 Alternative welfare contact
 Noel Moss
 Ask at the track or at matches
 Alternative welfare contact
 Sarah Clarke
 Ask at the track or at matches
Track location
Use the interactive map below to find the Athletics Track:
Cambridge University Track – CB3 0EQ
There is a barrier across Wilberforce Road just before the junction with Clarkson Road. It isn't possible to reach the track by turning in to Wilberforce Road from Madingley Road. Please turn into Grange Road and use either Clarkson Road or Adams Road to reach the track.
There is parking at the University Track (no need to park at the Madingley Road site as per the Sportshall), however on occasion it can be very busy with hockey matches being played too. On these occasions please try not to park on the grass but use one of the surrounding roads if needed, showing respect for the local residents. Thank you.
Sportshall location
Use the interactive map below to find the winter training facility at the Cambridge University Sportshall:
Cambridge University Sports Hall – CB3 0FS
It is not possible to park cars at the Sports Centre itself except for disabled badge holders.
The University Sports dept. have complained strongly to us that parents dropping off and collecting athletes from the Sports-hall on Mondays (and Thursdays) are taking their cars down to the sports centre causing considerable congestion issues.
NO cars should be taken down the road leading to the sports centre. Parents should park in one of the car parks and walk with their athlete to and from the centre.
Those having passes can park in car parks 6 and 7. If you do not have a registered car park pass you can park in Car park 8 which will always be open.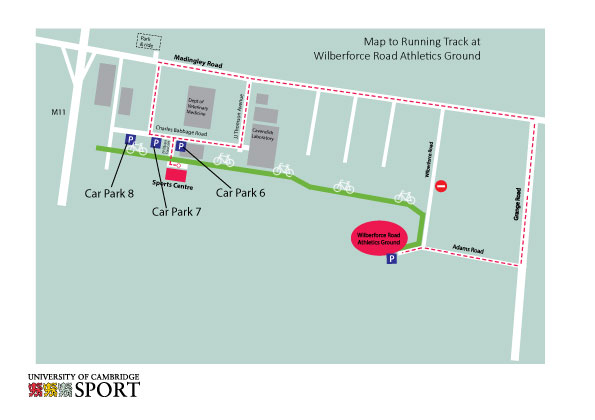 To get a parking pass is free – you "join" the gym at the sportshall as a "Pay-As-You-Train" member, then collect the card from the sportshall the first time you visit after joining.  Please join here.
Please cooperate so that we do not lose the goodwill of the University Sports Department.